Annual General Meeting 2019 Review
Actions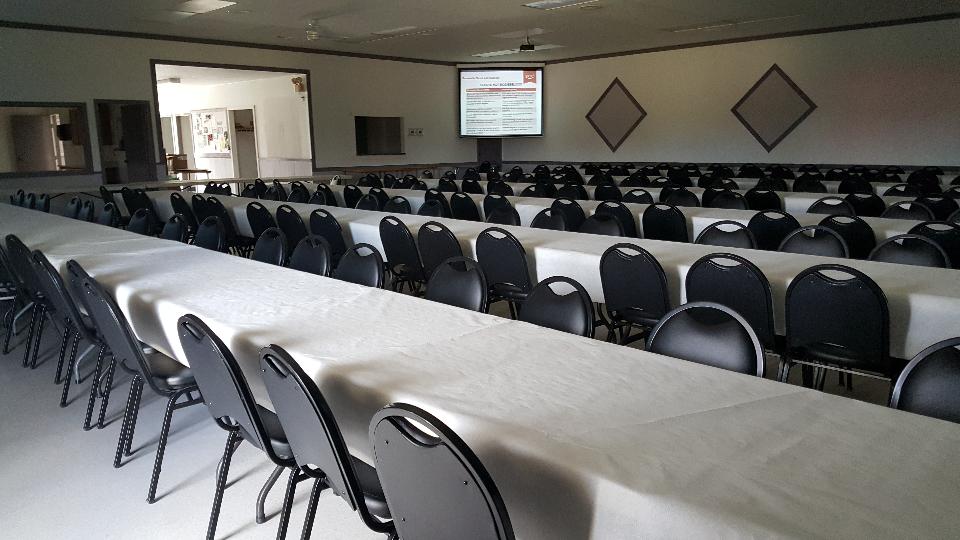 Annual General Meeting 2019 Review
May 23, 2019
Four Rivers Co-op hosted our 74th AGM on Monday, April 29, 2019 at the Nechako Senior Citizens Friendship Centre in Vanderhoof. We welcomed 112 members and 55 guests to the meeting that was MC'd by Kathie LaForge. Tina's Catering prepared and served a delicious meal for our members and guests to enjoy prior to the start of the official meeting.
We took a moment of silence to pay respects and say goodbye to Ken Loper, a long-time board member who recently passed away. Ken served on our Board of Directors for 38 years before his retirement. He will be missed.
Colleen Erickson presented the Board Report which talked about our history and growth and announced that we are celebrating our 75th anniversary this year. The report also touched on some advancements that our co-op is making in reducing plastic waste by installing Diesel Exhaust Fluid (DEF) at the pump at a number of our cardlocks. With the three DEF pumps already installed, we have eliminated 9,786 10L jugs from entering our landfills.
Cathy Vossler, from the Member Relations Committee, reported that we implemented a new program in our Food Store called "Bags For Kids Nutrition" where we are working to reduce the number of plastic bags making their way into landfills by donating 3¢ for every reusable shopping bag that customers bring in to a fund that goes to support breakfast programs in the schools of Vanderhoof to ensure that all children have access to healthy, nutritious foods so that they can learn and grow. Proceeds from the sale of our special Bags for Kids Nutrition cloth bags also go into this fund and so far, we have saved 9,773 bags from entering landfills. She also updated the membership and guests on the continued success of our Community Support Fund. We received 105 deserving applications from all of the communities in our trading area and provided $100,000 in funding to 10 worthwhile projects in 8 different communities. Four Rivers Co-op donated over $122,000 back to our communities in 2018 (over and above the $100,000 from our Community Support Fund), including graduation bursaries, and sending two teens to the YES Camp. Cathy also shared some information on plans to celebrate our 75th anniversary with plans being in the works to make this a big celebration, and thanked our membership for understanding as we closed our facilities on April 14th so that we could join our entire team together to celebrate this milestone. She also announced that Four Rivers Co-op will be hosting its first ever District Co-op meeting on June 21st with Directors from District 1 coming from all over Northern Alberta and BC.
Allan Bieganski, General Manager, reported that we had an exciting and busy year with opening our first retail Gas Bar and Car Wash in Prince George and expanding with construction beginning at our newest Cardlock location in 100 Mile House. DEF pumps being installed at this new site along with 24/7 Member Accessible washrooms. DEF pumps were also installed at our cardlocks located in the Hart and BCR Sites in Prince George, as well as 24/7 Member Accessible washrooms being installed at these sites and at our Vanderhoof cardlock. We also introduced a bulk propane service, operated by Federated Co-operatives Limited (FCL) on behalf of Four Rivers Co-op. The offerings include delivery service for home heating and for commercial accounts. He also discussed plans for 2019 that include the continued installation of DEF pumps at our Vanderhoof and Quesnel cardlock locations, as well as looking at providing renewable diesel at these two sites, and explained the difference between renewable diesel and bio diesel. He also updated the membership and guests that the board approved management to proceed to the tender stage for our next major upgrade at our Food Store, which will be the first major upgrade of this location since 1998. Plans include making more effective use of the vestibule area by moving our cashiers and expanding the sales floor, installing member washrooms and many improvements. Plans are still in the works for a major upgrade to our Vanderhoof Gas Bar, but the board and management are looking at various options, and moving cautiously ahead to ensure that when the upgrade happens, that it is done right. Our co-op has identified a major initiative to review existing operations and looking for opportunities to bring them to the next level, which includes enhancing efficiencies and reducing costs at our current locations.
As we had 4 positions on our Board of Directors come up for election this year (Colleen Erickson, Marje Makow, Cathy Vossler and Henry Dyck), these positions were up for re-election. Henry Dyck, one of our board members representing the Vanderhoof/Prince George/Burns Lake district had previously decided to retire from his position on our board, and two new nominees, LaVerne McKay and Roy Spooner were presented. Colleen Erickson, Marje Makow and Cathy Vossler allowed their names to stand, and the membership voted to fill the four positions. We are pleased to announce that your Board of Directors for 2019 are Bud Pye, Colleen Erickson, Marje Makow, Henry Dyck, Cathy Vossler, Floyd Wuthrich, Nirmal Parmar, Rob Varley and LaVerne McKay.
The membership approved MNP as our auditors for 2019. From 2018 savings of $17 million, the membership approved the following distribution of 2018 savings:
• $8.9 million at a rate of 3.75% for food, petroleum, c-store and home centre/agro and 9% for oil and lubricant was allocated as Patronage Dividends to members in proportion to their 2018 purchases with $4.9 million being returned to members in cash as a general equity repayment
• $8.9 million was allocated to the General Reserve.
Discover more:
There are no featured stories at this time.