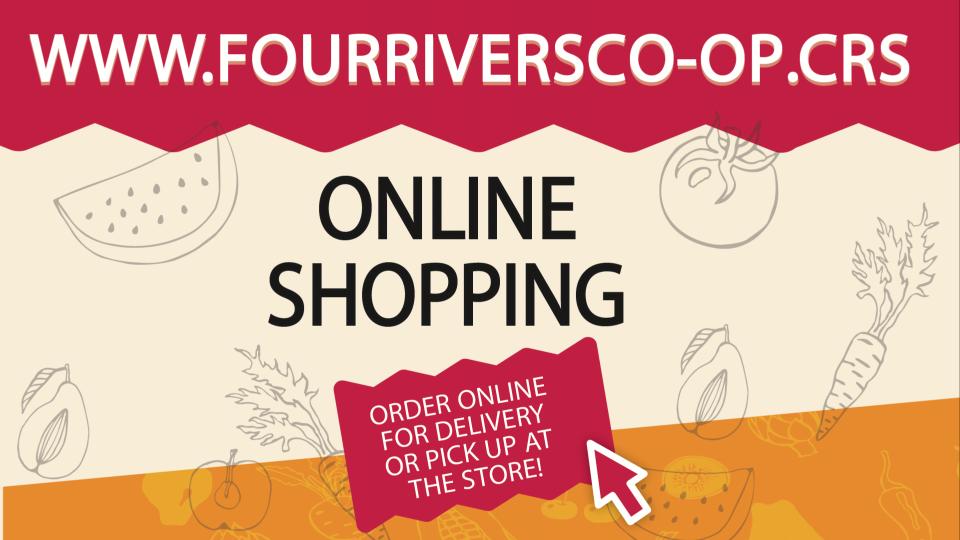 Online Grocery Order Form
April 13, 2020
UPDATE: Starting May 2nd, online orders/delivery will require a minimum of a $25 purchase.
One of the great reasons to shop at your Four Rivers Co-op — we deliver! Send us your grocery order and details using the form below and we can deliver to your door within the Vanderhoof area (10km)
Delivery service is available Monday — Saturday. Contact your local Food Store location for specific delivery schedule.

Delivery times are subject to change, based on demand. Current wait time: orders are filled within 1-2 days (If you order your groceries on Monday after 5:00pm, they will be delivered on Tuesday).
Curbside pickup is currently unavailable.
Seniors receive delivery for free! 60+
View this week's flyer HERE.

NOTE: Please indicate if substitutions can be accepted in place of out-of-stock items. If items are not in stock, you will not receive them in your order.
Complete the form below to submit your grocery order online. Orders will be received by e-mail.
Discover more: