Four Rivers Co-op's Response to COVID-19
Actions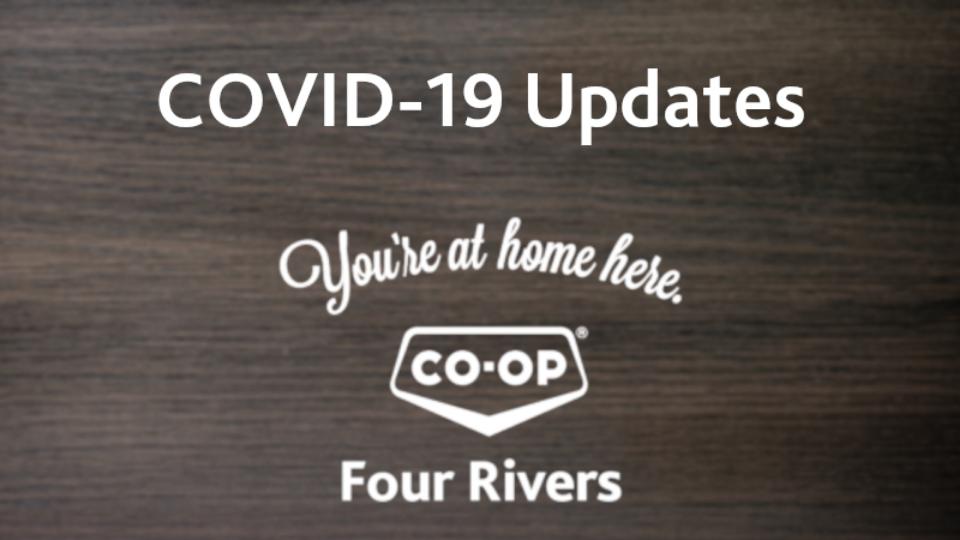 Four Rivers Co-op's Response to COVID-19
March 20, 2020
Updated August 25, 2021
As per BC provincial health orders, effective on Wednesday, August 25th, 2021, masks will be MANDATORY inside all our locations once again. Masks will continue to be mandatory until further notice. We appreciate your consideration.
Updated November 20, 2020
As the curve in BC continues to rise, Dr. Bonnie Henry issued a number of new orders effective November 19, 2020. As we comply with her new orders, please note that anyone entering any of our facilities will be required to wear a mask. This includes customers (over the age of 2), staff, and visitors in our mall. We will provide a single-use mask to any customer needing one. This mask will be required to be worn for the duration of your stay in our facilities.
Updated: June 5, 2020
The health and safety of Four Rivers Co-op employees and customers is very important to us. We are taking steps at all of our locations to help our communities stay safe and healthy.
Our stores are cleaned and sanitized regularly throughout the day as a part of normal business, but all of our locations are increasing the frequency of cleaning, especially around high-touch areas. We encourage our customers and members to keep informed on prevention by regularly checking the websites of our provincial health authority, Health Canada and the World Health Organization.
Grocery Updates:
After many discussions about how we can best support the members of our community who are most at risk, we have decided that, effective immediately, we are offering FREE grocery delivery to seniors, those who are ill or have an immune disorder to ensure they can access groceries without exposing themselves to potential health threats.
We understand that there are mounting concerns around financial security. As such our team members who will be picking grocery orders will select items with the lowest cost unless otherwise directed.
Our Food Store will accept orders Monday - Friday, 8:00am - 12:00pm by fax, email or telephone as follows, with order delivery being the following day:
Email: grocery@vhfcoop.com or housewares@vhfcoop.com
Fax: (250) 567-4355
Telephone: (250) 567-4414
And just added, orders can be placed through our website. Recently added: the option to select the food category or store department to your grocery order.
We have also decided to temporarily suspend our 5¢ fee on plastic shopping bags to ease your minds until further notice.
we have posted signs for our customers to know where to drop shopping carts after they have finished their shop, as well as to indicate which carts have been sanitized and are clean and ready for use.
We are implementing one-direction shopping as well to help ensure physical distancing in our Food Store.
Also, we will be limiting the number of customers in our Food Store to a maximum of 50 people at one time.
All of these policies are temporary but will remain in place until further notice.
Gas Bar/Convenience Store Updates:
Over and above taking extra measures to ensure our facilities are clean, we are also asking customers and members NOT to bring in travel mugs at this time for refills. We have paper cups available for your use, this is to prevent possible contamination from cups to our refill stations. Our refill stations are cleaned on a regular basis, and we are working to reduce the risk of exposure.
Our Gas Bar in Vanderhoof has resumed regular hours of operation, and are now operating 5:30am — 9:00pm daily. Our Gas Bar in Prince George on Westgate continues to operate with regular hours of 6:00am — 10:00pm daily.
Following recommendations made by Northern Health, we are expanding the services we offer at our Convenience Stores in Prince George and Vanderhoof until further notice. Effective immediately, our staff will provide the service of dispensing beverages of your choice, and foods from our fresh food programs, which availability will vary by store. This is in an effort to reduce potential spreading of virus, and limiting contact with these high-contact surfaces and products to ensure the health and well-being of our customers and staff.
Our Gas Bar on Westgate is now implementing a full-serve for inside service. Our team is happy to serve you from our beverage machines, whether you are looking for a hot beverage or a frozen beverage such as our F'Real milkshakes or Big Cools.

We are limiting the number of customers to a maximum of 6 at our Vanderhoof Gas Bar and 10 at our Prince George Gas Bar on Westgate Avenue.
At the recommendation of Northern Health, we have increased and adjusted the traffic pattern inside our Convenience Store in Vanderhoof to properly meet the social distancing regulations. Additional directional signage and floor decals have been installed to provide assistance to our customers entering and leaving our store.

Petroleum Updates:
Many of our Vanderhoof Petroleum office team members are working remotely, but are still available to answer your questions. Please contact the following numbers for answers to your questions:
Pricing inquiries: Ashley – (250) 570-7549
Fuel Card inquiries: Petroleum Office – (250) 567- 4488
Fuel Ordering: Stefan – (250) 570-7908
General Inquiries: Percy – (250) 567-0384
We will be adjusting the hours of operation on Saturdays at our Houston petroleum office effective April 18, 2020 to 10:00am — 2:00pm
The shower facilities at our Cardlock in the BCR Site in Prince George have now been re-opened for our customer's use. We have set protocols in place to ensure they are properly cleaned and maintained to protect the health and well-being of our customers and staff.

Home Centre Updates:
Our Home Centre is committed to meeting your needs, and in order to accommodate team members who are ill or practicing social distancing or self-isolation, we are temporarily adjusting the hours of operation for this location as follows:
Monday – Saturday: 8:00am – 5:00pm
Sunday: 9:00am – 5:00pm
Restrictions on the number of customers in our store at a time may be implemented as necessary to ensure our customers and staff have sufficient space for adequate social distancing.
Regular hours will resume as soon as possible.
In order to ensure the health and safety of our customers and employees, we have implemented a temporary maximum customer occupancy at our Home Centre of 15 customers until further notice.
Our yard attendants will load your vehicles for you, and ask that you help reduce the risk of spreading COVID-19 by remaining in your vehicle while in our lumber yard.
We have installed directional signage at the entrance to our Home Centre to assist our customers in maintaining social distancing as they navigate our store.
Online orders and curbside pick up are now available at our Home Centre location. Orders can be placed through our handy online order form by visiting our website. One of our team members will be in touch within 24 hours, and will work with customers to arrange a pick up time. No need to leave your vehicle at the time of pick up, simply phone our store at (250) 567-4464 when you arrive in our parking lot, and a team member will bring your order to you.

Quesnel Cardlock/Agro Centre Updates:
As we do our part to reduce the spread of COVID-19, we have decided to temporarily close the shower washroom at our Quesnel facility. However we will continue to keep our smaller washroom open for customer use.
We are making adaptations to our processes to be able to continue to provide the services and products that you need while minimizing the risk of exposure to our customers and employees, and we thank you for your patience during this time.
We encourage you to check this article periodically for updates to the information. As things are very fluid and information is changing quickly, we will work to keep updated information available to our customers and members.
Our shower facilities have now been re-opened for our customer's use. We have set protocols in place to ensure they are properly cleaned and maintained to protect the health and well-being of our customers and staff.