Westgate Soon to Be Self-Serve Only March 20, 2023
Actions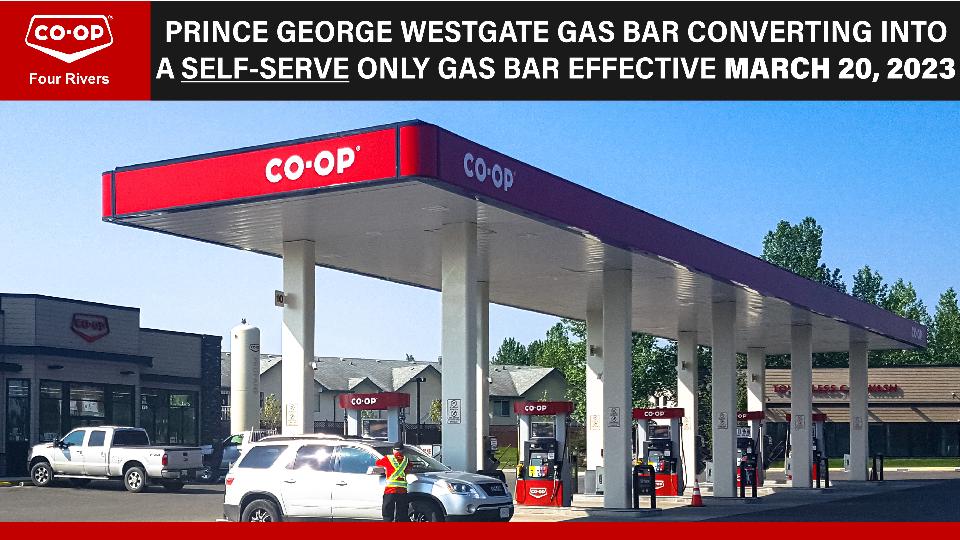 Westgate Soon to Be Self-Serve Only March 20, 2023
February 25, 2023
Dear Prince George Customers and Members,
Our Gas Bar in Prince George located on 6749 Westgate Avenue will be converting to a Self-Serve Gas Bar effective March 20th, 2023. In August of 2022, Four Rivers Co-op announced the purchase of 10 Husky Self-Serve Retail Fuel Sites across central British Columbia, 3 of which are located in the city of Prince George. The Self-Serve Husky Retail Fuel Sites are being transitioned into Self-Serve Co-op Gas Bars this year and our Westgate Gas Bar will follow in the same direction.
We apologize for any inconvenience this may cause and thank you for your understanding.

We please ask you to treat our staff with respect during this transition. Thank you.
For Frequently Asked Questions please click HERE
For more information on the purchase of the Husky Self-serve gas bars please click HERE