A Message From our General Manager
Actions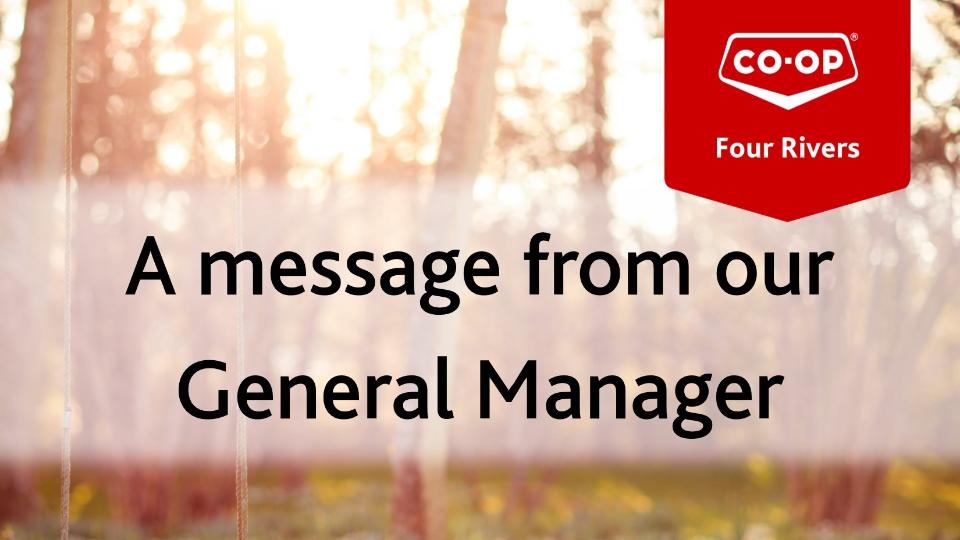 A Message From our General Manager
March 23, 2020
We at Four Rivers Co-op believe that together we are stronger and can achieve anything. This unique and challenging time has given us the chance to show that when we work together, we can accomplish extraordinary feats. We are working diligently to prevent the spread of COVID-19 and to support and protect our communities. Now is the time to commit to working together and being part of the solution.
The health and well-being of our employees, members and customers is of the utmost importance, and we have taken measures to ensure we are doing everything we can to prevent the spread of COVID-19. In addition to the recommendations put forth by the Canadian Public Health Agency and the Public Health Services Authority, we have implemented other precautions to help keep you safe.
Until further notice, we are:
Taking additional sanitation measures to ensure the health and well-being of everyone visiting our locations;
Temporarily adjusting the hours of operation of some locations to ensure that we keep up with sanitation requirements, to restock shelves, to give our team members and opportunity to rest and reduce unnecessary exposure;
Postponing all in-store special programing, including but not limited to, in-store sampling;
Providing free grocery delivery within 10km of Vanderhoof town limits for orders of $25 or more to seniors, the ill or anyone with an immune deficiency;
Encouraging both our employees and our members and customers to practice social distancing at all of our locations;
Suspend the 5¢ fee for plastic bags, and are kindly asking our shoppers to pack their groceries if they choose to use reusable bags;
Updating our teams daily.

I believe that it's not what life throws at us, but how we respond to these challenges that truly matters. And our teams have shown that they can rise to this challenge and face it head-on. They have taken on a tremendous responsibility, putting their fears aside. They have willingly responded to working over-time, picking up extra shifts, covering for co-workers who are ill or otherwise unable to work. They are delivering groceries to their neighbours and offering reassurances to our customers and members that we're all in this together, and we're here to support and help you. They have shown a truly amazing amount of strength, and I want to acknowledge their efforts during this challenging time.
We know that this pandemic is evolving quickly, and new information and recommendations are changing daily, and sometimes multiple times through the day. We are committed to monitoring these changes and adjusting our response accordingly. Crisis or not, we will work diligently to meet your needs. We want to thank you for your patience and understanding as we work to keep essentials like food and fuel available. We are doing everything we can to keep our shelves stocked and locations operational.
We also understand the unique challenges that we're experiencing with renovations happening at our Food Store through this time, and are working with the contractors to ensure that any disruptions are minimized to ensure that our customers and members have access to the products and services they require, and we will continue to provide updates to you in regard to operational changes during this time.
On behalf of the entire Four Rivers Co-op Board of Directors and Management Team, I urge everyone to follow the recommendations put forth by our government health officials to prevent further spread of COVID-19. I also encourage everyone to consider donating a few items to the local food bank.
Working co-operatively, we will get through this difficult time.
Co-operatively,
Allan Bieganski, CGA, CPA
General Manager